I wish I was the kind of person that I picture when visiting a farmer's market.  That guy buys fresh produce, locally sourced meats, artisan cheeses, art and handmade pieces from incredible artists and entrepreneurs.  I picture myself walking around a farmers market with a freshly made coffee from a local coffee shop eating a donut that was cooked in front of my own eyes.  Each week in the Spring, Summer, and Fall, our community gives me a lot of opportunities to continue to aspire to be that guy.  In the blog this week, we'll tell you about the opportunities to be that ideal version of yourself too if it involves amazing people watching, fresh locally sourced food, and getting outdoors to enjoy a local farmers market.  
My first experience with farmers markets in Peoria was at the Metro Centre.  My wife and I had just gotten married and we bought a duplex in the Westwood/Lake Park neighborhood not far from Metro Centre.  Having previously lived in Chicago for 6 years, walking to the grocery store was my norm.  Saturday mornings, my wife and I would grab our collapsible red wagon and we would walk the 9/10 of a mile to the market.  We'd also stop off at Pottstown, Le Bakery, and then head home often seeing neighbors out in their yards.  Years later, when our daughter was born, the downtown market began to take off and we'd pack her up in the stroller and head down to see what local produce we could keep in our fridge before it eventually went bad.  We'd stop off at the balloon artist or listen to the live music being played along the edge of Martini's.  Farmers markets provide access to low cost fresh produce and other foods, opportunities to see friends or people watch, enjoy the outdoors, explore things outside of our circle of understanding, learn about new businesses or social causes, or expand horizons about foods and traditions from other cultures.  
Spring is upon us and with the dawn of the Spring season, comes a new farmers market season in and around Peoria.  Here are a few local markets that we frequently visit.  
The RiverFront Market –
Downtown Peoria
Open Saturdays from May 21st to end of September from 8am to noon.  Their website reads:
"You'll find exceptional taste and freshness all season long.  Don't miss out on the best selection of  fresh produce, local meats, eggs, berries, breads and cheeses in Central Illinois!  Everything is locally grown and brought directly from farms and gardens each week.

We also feature a one-of-a-kind selection of art including pottery, blown glass, jewelry, wood turned items, candles, soaps and more~ all handcrafted by local artists!

We are located in the River Station parking lot (212 SW Water St), directly across from the Peoria Riverfront Museum.  Plenty of free parking is available in surrounding lots and streets."
For more information, email [email protected] or call 309-671-5555.  More information about the market can be found by visiting:
https://visitdowntownpeoria.com/peoria-riverfront-market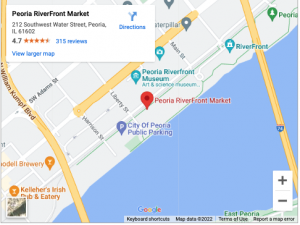 Metro Centre Farmers Market
Open Saturdays from May 1st – September 31st from 8am – noon (or sold out) their website reads:
"The Peoria Farmers Market at the Metro Centre was founded in 1977 by community leader Marvin L. Goodman. It was his vision to promote healthy eating while bringing-together consumers and farmers from all over Central Illinois to a marketplace with a wide variety of fresh, locally grown produce. Thirty plus years later his vision still holds true. The Peoria Farmers Market is a great place to get fresh produce, flowers, pasta, and much more. If you like to support local farmers and enjoy a relaxed atmosphere this would be your kind of place."
Producers and Vendors: Please call (309) 692-6690 or email Jason Fuller for details on how to participate.
https://www.shopmetrocentre.com/farmers-market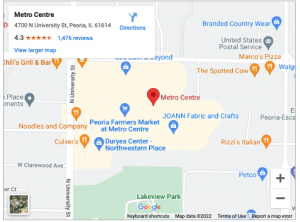 The SpringBoard Market
A few years ago, local urban farmer and entrepreneurs Andres and Kathryn Diaz opened up The SpringBoard Market in the parking lot next to their business incubator space.  The SpringBoard Market is a place for North Valley residents and others to get access to produce that they grow on their 4 acres of downtown lots.  In addition to the local produce, you'll have to try the street tacos which are prepared fresh on the spot.  Urban Acres grows over 2 tons of produce during the year, half of which is provided to local residents at little to no charge.  The other half is sold to underwrite the cost to run the farm and provide food education to youth in the area.  You'll also enjoy the other vendors at the market.  Last year, I picked up a beautiful molcajete that we use for guacamole often.   
https://www.facebook.com/urbanacrespeoria/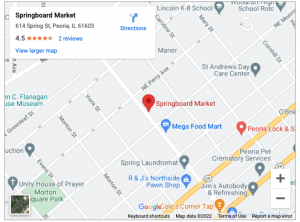 Keller Station Farmers Market
The newest kid to the party is making a big impression.  The market at Keller Station provides the north side of Peoria with quick access to local produce, meats, micro greens, baked goods, and cheeses.  Located at the corner of Northmoor Rd and Knoxville Ave, Keller Station features CxT Coffee (home to my favorite Discover Peoria Blend coffee) and several other shops and businesses.  Looking for a market during the week?  The Keller Station market also has you covered on Wednesdays.  Check out their Facebook page for more details.  
https://www.kellerstation.com/farmers-market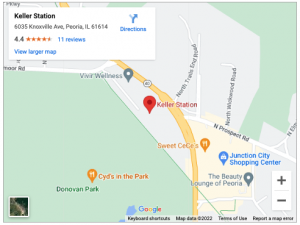 Regardless of which of the markets you attend, you've got great options all over the city to access fresh produce or baked goods, locally sourced meats and cheeses, and have some new experiences.  
Did we miss your favorite market?  Tell us about it at [email protected].